On 20 November 2018, major changes to Seaport were implemented.
Once these changes are processed on this page, this message will disappear.
It'll take some time, though. Please be patient.
Time limited offers are special deals, occasionally given to players. Apart from gems they also include additional extras making the deal better.
WARNING: The information below is collated for informational purposes. Nothing on this page is an official sale offer. This is information based on screenshots of players' received offers. Those things may change as Seaport is a game still in development.
Varying Prices
Edit
Some of the packages will vary in price for different people. This is most probably based on the previous purchases of the player (need confirmation). The ship will remain the same in all offers, but the more expensive offers will include more gems.
Below is the list of possible price variants (approximates) for those offers, which have varying prices. The prices on the list below might further slightly vary based on exchange rates and other factors.
9.99$ or 8.89€ (360 gems)
14.99$ or 13.34€ (540 gems)
19.99$ or 17.79€ (790 gems)
24.99$ or 22.24€ (990 gems)
29.99$ or 26.69€ (1200 gems)
49.99$ or 44.49€ (2200 gems)
89.99$ or 80.09€ (3870 gems)
119.99$ or 106.76€ (5970 gems)
Starter Package
Edit
Trigger: Appears after reaching level 8 (sometimes it happens a bit later, not right after leveling up)
Price: 2,99$ or 2,78€ or your regional equivalent.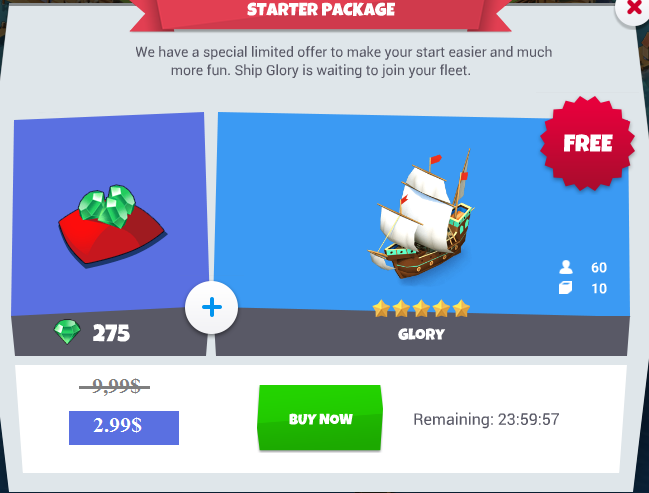 Redonda Package
Edit
Trigger: After reaching level 30
Price: 4,99$ or 4,44€
Content: (need picture) 180 gems + Redonda Ship
Latina Package
Edit
Trigger: After reaching level 35
Price: Varies (probably based on the amount of previously purchased gems)
Content: Gems + Latina Ship
La Constance Package
Edit
Trigger: After reaching level 45
Price: 4,99$ or 4,44€ (or regional equivalent)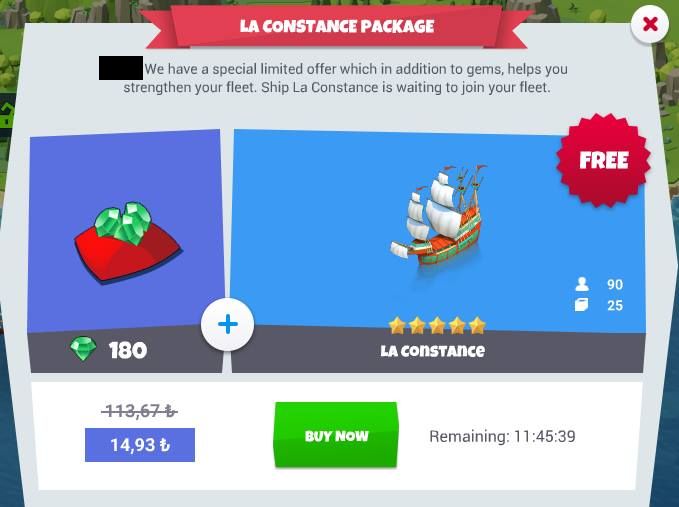 Anthony Roll Package
Edit
Trigger: After reaching level 50
Re-appears (if not purchased): After reaching level 55
Price: Varies (probably based on the amount of previously purchased gems)
Content: Gems + Anthony Roll Ship
Price: 9.99$ or 8.89€
Edit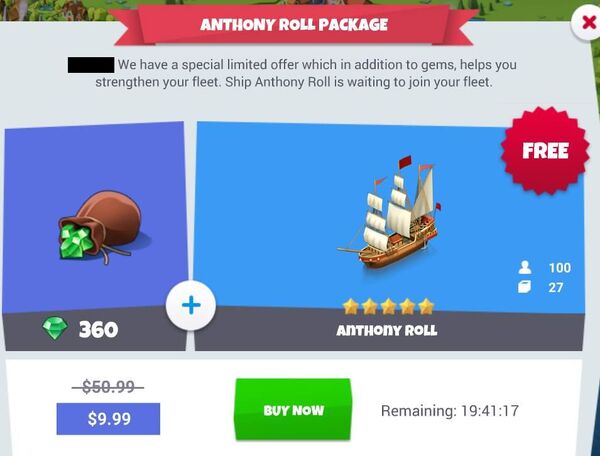 Botafogo Package
Edit
Trigger: After reaching level 60
Re-appears (if not purchased): After reaching level 65
Price: Varies (probably based on the amount of previously purchased gems)
Content: Gems + Botafogo Ship
Price: 9.99$ or 8.89€
Edit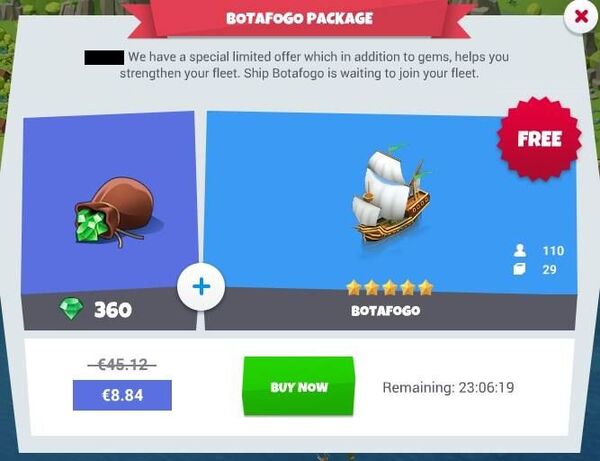 Defiance Package
Edit
Trigger: Reaching level 74
Re-appears (if not purchased): At level 80
Time: 24h
Price: Varies (probably based on the amount of previously purchased gems)
Content: Gems + Defiance Ship (amount of gems varies also)
Price: 14,99$ / 13.34€ for the 540 gems pack or 9.05€ / 9.99$ for the 360 gems pack
Edit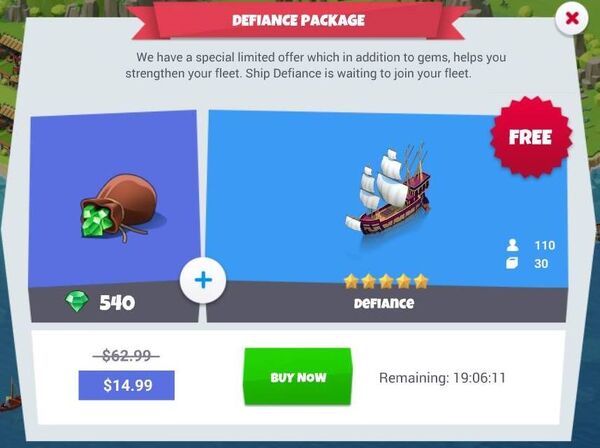 Desire Package
Edit
Trigger: After reaching level 85 and re-appears if not purchased at level 95
Time: 24h (probably based on the amount of previously purchased gems)
Price: Varies
Content: Gems + Desire Ship
Price: 9.99$ or 8.89€ or $12.99 AUD
Edit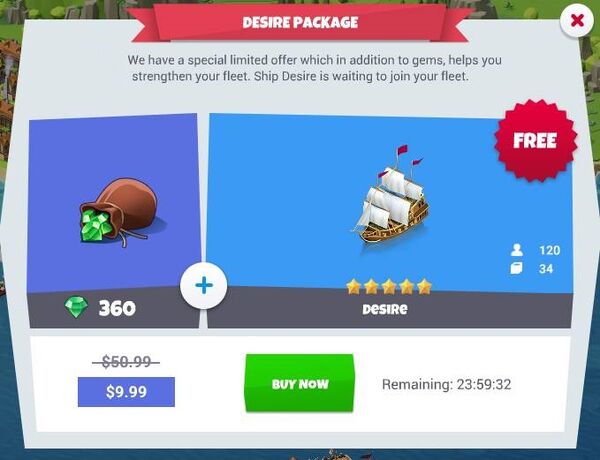 Price: 24.99$ or 22.24€
Edit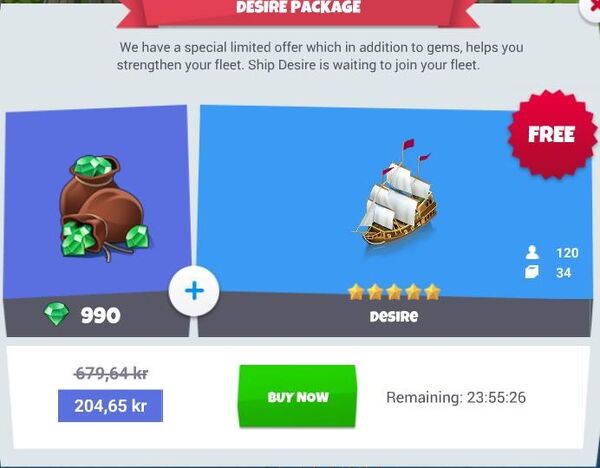 Lion Package
Edit
Trigger: After reaching level 110
Re-appears (if not purchased): After reaching level 115
Time: 24h
Price: Varies (probably based on the amount of previously purchased gems)
Content: Gems + Lion Ship
Price: 9.99$ or 8.89€
Edit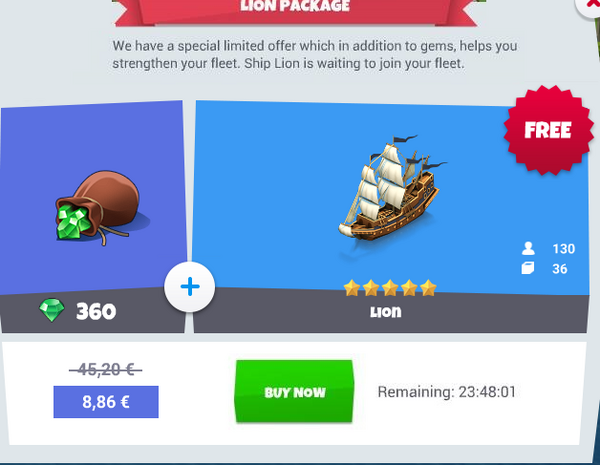 Price: 49.99$ or 44.49€
Edit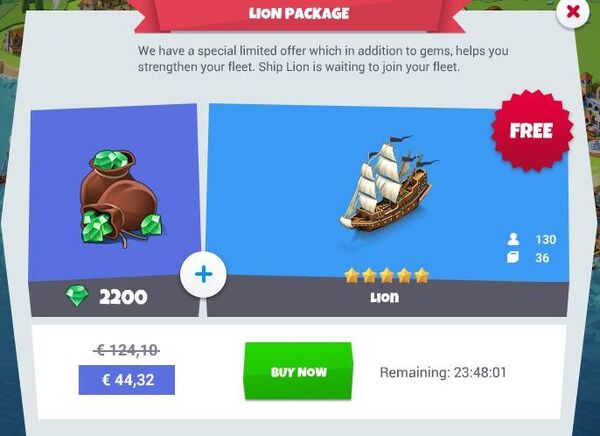 Merhonour Package
Edit
Trigger: After reaching level 125
Time: 24h
Content: Gems and "Merhonour" ship
Price: 89.99$ or 80.09€
Edit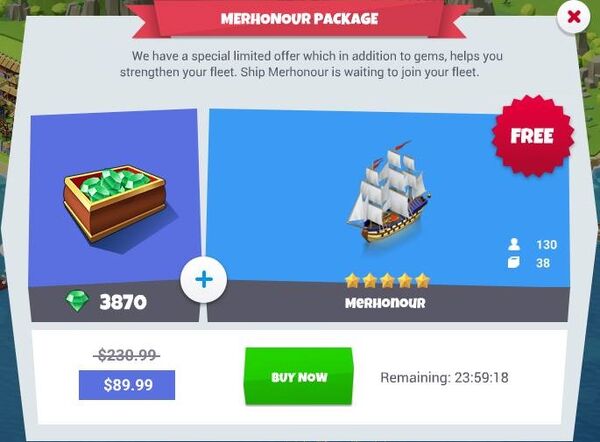 Price: 119.99$ or 106.76€
Edit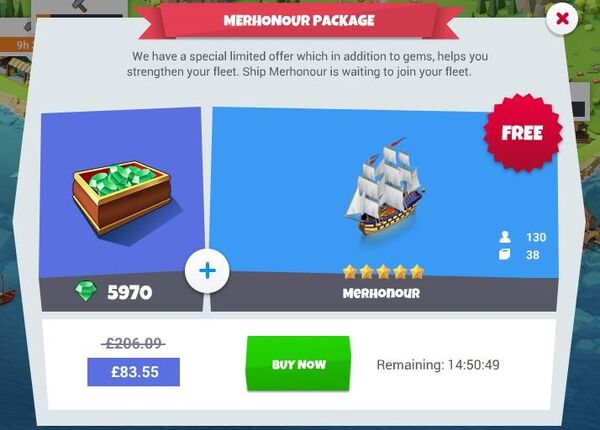 Abrigada Package
Edit
Trigger: After reaching level 125
Time: 24h
Content: Gems and "Abrigada" ship
Price: 20.28$ or 18.04€