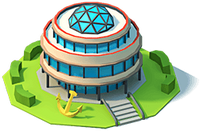 The Museum feature was introduced on October 18th, 2016.
The Museum building allows you to store unused ships in exchange for an XP reward, information about the ship, and a small coin bonus every few hours. You won't be able to use the ship again, but your ship count in the ranking will remain the same.
You can only add ships that are not currently in your fleet (unused). The ships also have to be upgraded to at least 5 stars. Ships that can be upgraded to 7 stars with gems do not have to be maxed out, they can also be stored in the Museum at 5 stars.
Placing a ship in the Museum will earn you a one-time XP bonus, which depends on the quality of the ship. How much XP any given ship earns you can be found on the Ships by level pages. You will also be able to read interesting information about the ship.
The Museum also functions as a production building, and produces a modest amount of coins for you. The coin production depends on the number of ships you have placed in the Museum. The quality of the ships in the Museum does not impact your coin production. To view the outputs of the Museum building at any given level, scroll down to the Upgrading section. You can collect coins once every hour, but the Museum will keep producing them for a lot longer than that (see production time). Once maximum amount has been reached, your Museum will not produce anymore coins until you collect them.

Tips
Buy low level event ships. The quality of the ships in the Museum does not influence the coin production. Some players like to buy low level event ships that they can easily upgrade, just to place them in the Museum and boost coin production. However, keep in mind that this will negatively impact the XP you get for each ship, because the XP reward does depend on the quality of the ship. Obviously, you should not spend gems on these low level ships. Also, make sure you have empty slots in your Museum before buying a bunch of ships.
Keep your exploration ships. Don't be too quick to put La Pensée (and similar ships) in the Museum. Many players swap those ships into their fleet to do explorations and for contracts that require sailors, and then remove them again.
Upgrading
Levels 1-10
#
TH
Level
Time
Cost
OR
1
8
16h
3,500
25,000
18,000
160
2
9
17h
6,000
35,000
111,000
180
3
10
20h
7,500
45,000
30,000
200
4
11
22h
10,000
60,000
270,000
220
5
12
1d
15,000
75,000
78,000
12
240
6
13
1d 2h
19,000
90,000
480,000
14
260
7
14
1d 3h
23,000
120,000
100,000
16
280
8
15
1d 6h
30,000
170,000
690,000
18
300
9
16
1d 8h
38,000
220,000
150,000
20
320
10
17
1d 10h
46,000
280,000
970,000
22
340
Levels 11-20
#
TH
Level
Time
Cost
OR
11
18
1d 12h
60,000
350,000
200,000
25
360
12
19
1d 14h
75,000
430,000
1,220,000
27
360
13
20
1d 16h
90,000
520,000
260,000
30
360
14
21
1d 18h
105,000
620,000
1,450,000
33
360
15
22
1d 20h
120,000
730,000
320,000
36
360
16
23
1d 22h
135,000
840,000
1,700,000
39
360
17
24
2d
160,000
960,000
390,000
43
360
18
25
2d 2h
200,000
1,100,000
2,000,000
47
360
19
26
2d 4h
250,000
1,250,000
470,000
51
360
20
27
2d 6h
310,000
1,410,000
2,350,000
55
360
Levels 21-30
#
TH
Level
Time
Cost
OR
21
28
2d 8h
380,000
1,580,000
560,000
59
360
22
29
2d 10h
460,000
1,760,000
2,700,000
64
360
23
30
2d 12h
550,000
1,950,000
660,000
69
360
24
31
2d 14h
650,000
2,150,000
3,100,000
74
360
25
32
2d 16h
760,000
2,360,000
770,000
80
360
26
33
2d 18h
880,000
2,580,000
3,550,000
85
360
27
34
2d 19h
1,010,000
2,810,000
890,000
91
360
28
35
2d 21h
1,150,000
3,050,000
4,050,000
98
360
29
36
2d 22h
1,300,000
3,300,000
1,020,000
104
360
30
37
2d 23h
1,460,000
3,600,000
4,600,000
111
360
Levels 31-40
#
TH
Level
Time
Cost
OR
31
38
3d
1,630,000
3,950,000
1,160,000
118
360
32
39
3d 2h
1,810,000
4,350,000
5,200,000
126
360
33
40
3d 4h
2,000,000
4,800,000
1,310,000
133
360
34
41
3d 6h
2,200,000
5,300,000
5,850,000
141
360
35
42
3d 8h
2,440,000
5,850,000
1,470,000
150
360
36
43
3d 10h
2,680,000
6,500,000
6,500,000
158
360
37
44
3d 12h
2,940,000
6,620,000
1,640,000
167
360
38
45
3d 14h
3,220,000
6,870,000
7,200,000
177
360
39
46
3d 16h
3,520,000
7,220,000
1,820,000
187
360
40
47
3d 18h
3,840,000
7,590,000
7,950,000
197
360
Production
Levels 1-10
Level
Slots
Time
/h
Total
1 ship
Max
1 ship
Max
1
8
18h
30
240
540
4,320
2
12
20h
32
384
640
7,680
3
16
22h
34
544
748
11,968
4
20
1d
36
720
864
17,280
5
24
1d 2 h
38
912
988
23,712
6
28
1d 4 h
40
1,120
1,120
31,360
7
32
1d 6 h
42
1,344
1,260
40,320
8
36
1d 8 h
44
1,584
1,408
50,688
9
40
1d 10 h
46
1,840
1,564
62,560
10
44
1d 12 h
48
2,112
1,728
76,032
Levels 11-20
Level
Slots
Time
/h
Total
1 ship
Max
1 ship
Max
11
48
1d 14 h
50
2,400
1,900
91,200
12
52
1d 16 h
52
2,704
2,080
108,160
13
56
1d 18 h
54
3,024
2,268
127,008
14
60
1d 20 h
56
3,360
2,464
147,840
15
64
1d 22 h
58
3,712
2,668
170,752
16
68
2d
60
4,080
2,880
195,840
17
72
2d 2 h
62
4,464
3,100
223,200
18
76
2d 4 h
64
4,864
3,328
252,928
19
80
2d 6 h
66
5,280
3,564
285,120
20
84
2d 8 h
68
5,712
3,808
319,872
Levels 21-30
Level
Slots
Time
/h
Total
1 ship
Max
1 ship
Max
21
88
2d 10 h
70
6,160
4,060
357,280
22
92
2d 12 h
72
6,624
4,320
397,440
23
96
2d 14 h
74
7,104
4,588
440,448
24
100
2d 16 h
76
7,600
4,864
486,400
25
104
2d 18 h
78
8,112
5,148
535,392
26
108
2d 20 h
80
8,640
5,440
587,520
27
112
2d 22 h
82
9,184
5,740
642,880
28
116
3d
84
9,744
6,048
701,568
29
120
3d 2 h
86
10,320
6,364
763,680
30
124
3d 4 h
88
10,912
6,688
829,312
Levels 31-40
Level
Slots
Time
/h
Total
1 ship
Max
1 ship
Max
31
128
3d 6 h
90
11,520
7,020
898,560
32
132
3d 8 h
92
12,144
7,360
971,520
33
136
3d 10 h
94
12,784
7,708
1,048,288
34
140
3d 12 h
96
13,440
8,064
1,128,960
35
144
3d 14 h
98
14,112
8,428
1,213,632
36
148
3d 16 h
100
14,800
8,800
1,302,400
37
152
3d 18 h
102
15,504
9,180
1,395,360
38
156
3d 20 h
104
16,224
9,568
1,492,608
39
160
3d 22 h
106
16,960
9,964
1,594,240
40
164
4d
108
17,712
10,368
1,700,352