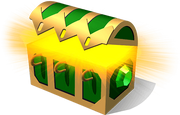 Chests are great! They can have coins, materials, and even gems inside them.
You can get them by retrieving Shipwrecks, finishing the Captain's Tasklist, or participating in a Global Quest.
Chests can have five different qualities. The higher the quality, the better the rewards. However, with any chest quality, there is always a random component. Sometimes a low quality chest gives great rewards, and sometimes a 3-slot chest is a huge disappointment.
| Quality | Closed | Opened | |
| --- | --- | --- | --- |
| 1 | | | |
| 2 | | | |
| 3 | | | |
| 4 | | | |
| 5 | | | |
Contents
Edit
Note: this table is a work-in-progress
| Chest | Possible Rewards |
| --- | --- |
| | ... |
| | , , , ... |
| | , , , , , , ... |
| | ... |
| | Captains, event items ... |